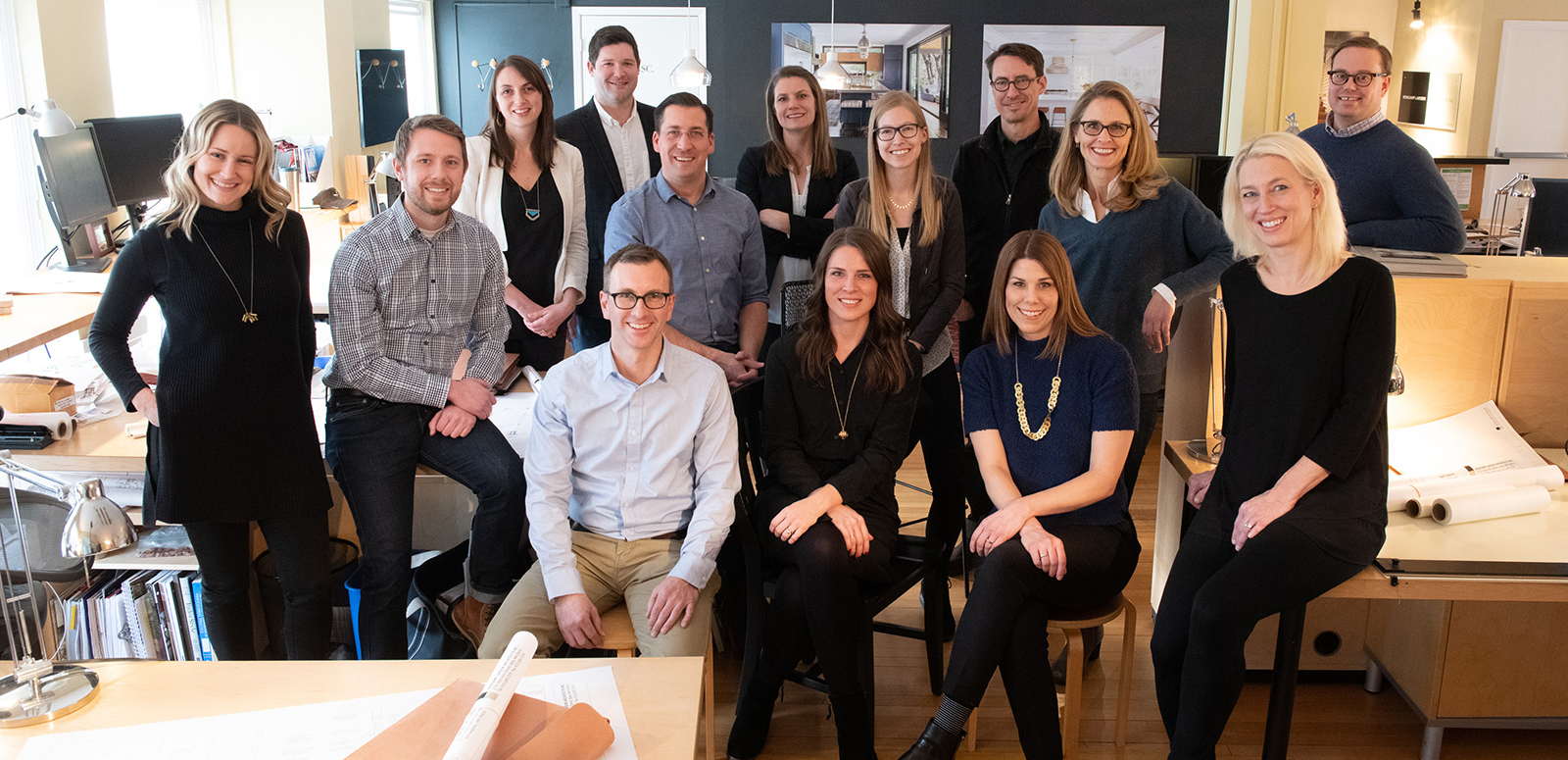 Our studio is located at 2732 West 43rd Street in Minneapolis, near beautiful Lake Harriet in the Linden Hills neighborhood.
Call 612-285-7275 or email info@rehkamplarson.com for more information, or to tell us more about your project goals. We look forward to hearing from you!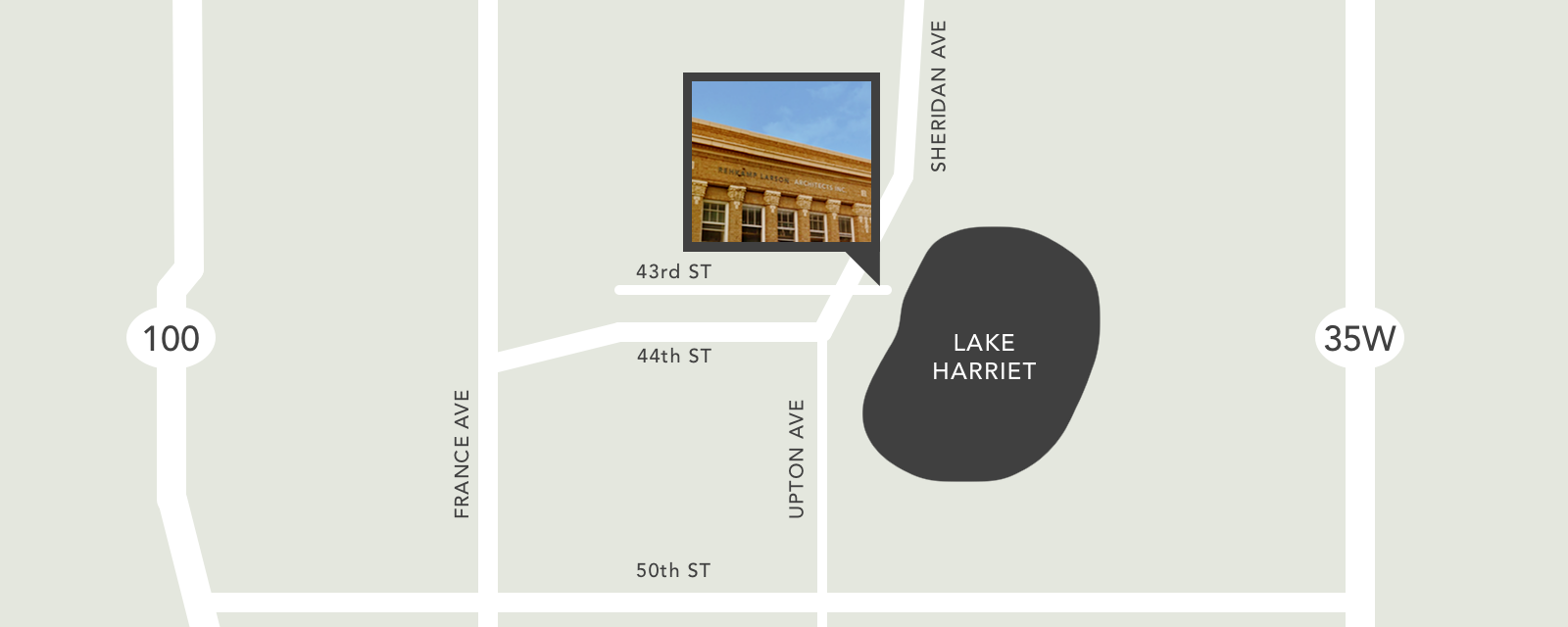 Mark co-founded Rehkamp Larson Architects with his wife Jean in 2000 following his entrepreneurial spirit and dedication to design. After receiving a B.A. from St. Olaf College, Mark earned his Master of Architecture degree from the University of Minnesota in 1992. Prior to founding the office, he worked in the offices of Vince James, The Leonard Parker Associates, Julie Snow Architects and HGA. Mark is the recipient of the 2016 Architect of Distinction Award from AIA Minnesota. He also received the AIA Young Architect Award in 2005, and was described as having "a growing dedication and an intensity for enlightening those around him about the discipline and delight of architecture." Mark is a licensed architect in Minnesota, Wisconsin and Oregon.
Mark is committed to collaborating with other professionals in the community to better connect people with architecture. He has served as Chair of the AIA Minnesota Residential Architecture Committee, steering committee member of the Architecture and the Psyche Symposium, and jury panelist of various local and national residential design competitions. In 2003/04, Mark co-presented lectures on Carl Jung's house at the Minneapolis Institute of Arts and the International Jungian Congress in Barcelona, Spain. Mark has lectured locally on cabins, renovations and the design process. He enjoys the opportunity to mentor students and is currently assisting in the development of an architecture course at St. Olaf College.
When not at the drawing board, Mark can be found at the tiller of a sailboat, plein air oil painting, or behind the lens of a camera.
Email: mark@rehkamplarson.com
Jean cofounded Rehkamp Larson Architects with husband Mark Larson in 2000 with the vision of an inspired, collaborative, client focused design process. In that same year, Jean was a recipient of the AIA Young Architect Award. In 2006, Jean was named the Emerging Talent of the Year by Midwest Home magazine. Her work was described as "very down to earth, with a beautiful kind of elegant simplicity to it." At the core of this work is a passion for the creative process of designing good places to live. Jean is a licensed architect in Minnesota, Iowa and Florida.
Jean is the author of The Farmhouse: New Inspiration for the Classic American Home (Taunton Press). This book stems from her interest in the principles of rural design and explores 20 modern examples. As a founding counselor of the Congress of Residential Architecture (CORA) and an active participant in the Custom Residential Architects Network (CRAN) of the American Institute of Architects (AIA), Jean connects with a broader national community of professionals in residential design.
She received her Bachelor of Architecture degree from the University of Minnesota and then spent 7 years working for Mulfinger, Susanka and Mahady. A native of rural Marshall, Minnesota, Jean now resides in the southwest metro with her husband Mark and their two sons, Andrew & Peter. Yoga, running, watercolor painting and baking cookies provide balance in a full life.
Email: jean@rehkamplarson.com
Ryan graduated from Iowa State University in 2001 with a Bachelor of Architecture degree. Before joining Rehkamp Larson Architects in 2003, Ryan spent two years at Hammel, Green & Abrahamson, Inc. in Minneapolis, and worked as an intern in the offices of RB+B, Fort Collins, CO. and Jensen Design Build, Ames, IA. Ryan's prior project experience includes arts, cultural, and educational facilities. Ryan received his professional architecture license in the summer of 2008. A native of Sioux City, Iowa, Ryan currently resides in South Minneapolis with his wife Katie and three children, Maisie, Claire and James.
Email: ryan@rehkamplarson.com
Before his start at Rehkamp Larson Architects in 2006, Ryan spent two years on multi-family and hospitality projects at ESG Architects. He has also spent time as an intern with the marketing and design firm Shea and as a field engineer intern with M.A. Mortenson. Ryan attended the University of Minnesota and received his Bachelor of Science in Architecture in 2002 and went on to earn a Master of Architecture in 2004. In his free time, Ryan enjoys working on his home in Eden Prairie and spending time with his wife, Amanda and children Lily, Kate and Will.
Email: lawinger@rehkamplarson.com
After a few years of living in the desert Southwest, Sarah returned home to Minnesota and joined the office in 2012. Prior to her work at Rehkamp Larson Architects, Sarah spent six years at Quigley Architects, specializing in residential design, and did freelance work during her time in Arizona. Sarah earned a degree in mathematics from St. Olaf College in 2001, a Master of Architecture from the University of Minnesota in 2005, and received her professional architecture license in 2012. During school, Sarah participated in several study abroad experiences including England and India, and has traveled extensively throughout the United States and Europe. In her free time, Sarah enjoys hiking, biking, cross-country skiing, sewing and heading up to the lake with her husband Jon and their three daughters, Anja and Sigrid and Marit.
Email: sarah@rehkamplarson.com
John received his B.A. degree in Architecture from Miami University (OH) in 2001 and Master of Architecture from the University of Washington in 2005. He previously worked at Glaserworks in Ohio and Mulvanny G2 in Washington, and headed up his own architectural firm in Minneapolis for six years before joining Rehkamp Larson Architects in 2016. John is interested in studying local customs and vernacular forms of housing while traveling throughout the Americas and Europe. John enjoys playing guitar, scuba diving and swimming (he once swam head-to-head against Michael Phelps), and lives in Minnetonka with his wife Nicole and kids A.J. and Madeleine.
Email: john@rehkamplarson.com
Anders has led a varied career as research assistant in Antarctica and Iceland, ship's engineer aboard sail training vessels, and high school math and science teacher. He ran his own design/build firm before joining the office in 2014. His studies have taken him around the world to Hungary, Vietnam and Turkey.  As part of his graduate work, Anders created housing with the Gulf Coast Design Studio along the Mississippi Gulf Coast after Hurricane Katrina.  Anders received a Master of Architecture in 2010 from the University of Minnesota. In his free time, Anders enjoys kayaking, cross country skiing, and cooking with his wife Megan.
Email: anders@rehkamplarson.com
Angie joined the Rehkamp Larson staff in 2011 as a student intern, and joined the office full time in 2013 after completing her Master's degree at the University of Minnesota. As part of her studies, Angie spent time in Biloxi, MS as part of the Gulf Coast Design Studio, and was also part of a team that designed and built a "zero energy" Habitat for Humanity house in the summer of 2011. In her free time, Angie runs a small jewelry design business, enjoys yoga, and spending time with her six nieces and nephews. A native of Minnetonka, MN, she currently lives in Northeast Minneapolis with her husband Chris.
Email: angela@rehkamplarson.com
Laurel earned her Master of Architecture degree at Kansas State University in 2013 and Master of Science in Architecture – Sustainable Design at the University of Minnesota in 2016. Her interest in sustainability and zero energy homes led her to compete in the U.S. Department of Energy Race to Zero Student Design Competition, where she was the University of Minnesota team's design lead and presenter. Her team won the Grand Award for their affordable Zero Energy Home. Before joining the office in 2015, Laurel spent over two years at LHB as intern and Designer. Laurel enjoys hiking, camping and rock climbing, and most recently took her love of the great outdoors on a 4300-mile road trip through the American Southwest.
Email: laurel@rehkamplarson.com
Elissa joined the Rehkamp Larson staff in 2016 after graduating from Iowa State University in 2013 with a Bachelor of Architecture degree. While attending ISU, she worked as an intern in the offices of Invision and BNIM in Des Moines and spent a semester studying abroad in Rome. Elissa spent three years at Short Elliott Hendrickson Inc. in St. Paul after graduation. In her free time, she enjoys volunteering at a local animal rescue service, designing and building furniture, and traveling. She has visited 18 countries around the world, including New Zealand, Norway and Belize. A native of Glidden, Iowa, Elissa currently resides in Little Canada with her husband Benjamin, dog Walli and cat Cotton.
Email: elissa@rehkamplarson.com
Corey joined the Rehkamp Larson staff in 2018 after spending five years working on office renovations, gallery spaces, and high-end residential projects for SKD Architects.  He completed his Bachelor of Design Architecture at the University of Minnesota in 2010 and went on to earn his Master of Architecture from Southern Illinois-Carbondale in 2017, focusing on sustainable recreation and education centers.  In his free time he enjoys hiking, soccer, and trips to the dog park with his fiancé and their Lab-Shepherd Ollie.
Email: corey@rehkamplarson.com
Karla joined the office in 2012 as our Business Manager. With an architect for a husband and four young children at home, she's well skilled at keeping the office organized and all of us in line. When she's not at the office, she spends her time chauffeuring kids to hockey practice and enjoying time with her family. Karla lives in South Minneapolis with her husband Chad and their children: Erik, Ella, Maren and Makayla.
Email: karla@rehkamplarson.com
Cindy joined the office in 2015 as Marketing Manager for Rehkamp Larson Architects. After earning two degrees in Advertising and Graphic Design from South Dakota State University, Cindy spent 7 years in print production at Fallon and Duffy Design, was a full-time mom, and worked as Marketing Manager at a local design/build firm. Cindy lives in Hopkins with her husband Ed, their three daughters Alice, Harriet and Stella, and dog Oscar.
Email: cindy@rehkamplarson.com